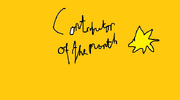 Every month I, TARDIS2010 , will pick a Wikia contributor who adds a lot of interesting things to the wiki. They are displayed on this page.
June 2011 - Contributor of the Month:Edit
Dynovan (Dyno).
Dyno has added some usefull pages, which were need, and has overall been the most common contributer (Apart from me). Congrats!
Say hello to Dyno.
Ad blocker interference detected!
Wikia is a free-to-use site that makes money from advertising. We have a modified experience for viewers using ad blockers

Wikia is not accessible if you've made further modifications. Remove the custom ad blocker rule(s) and the page will load as expected.